Hello everyone,
It's once again time for a book review :-) I was lucky enough to be sent an ARC (advance reader copy) of Chauncey Rogers' newest novel Happily. Chauncey Rogers is an American author and this will be his third published novel. I was really excited to get my teeth into this one as I love fairytale retellings.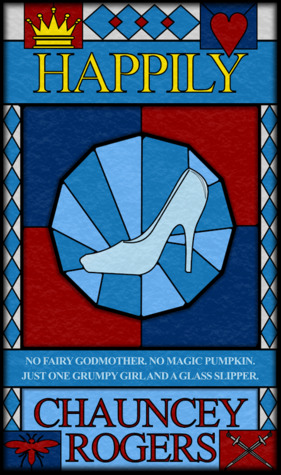 No bonus points for guessing which fairytale inspire this one :-P
Happily follows Laure, a sassy street urchin, as she tries to gather enough money to escape a country she has grown to hate. She lies, she steals and has very few morals left, but then an opportunity presents itself. The King has decreed that the young woman who fits the ridiculously large glass slipper can marry the Prince and have access to the crown's money. Sounds like a dream come true for Laure! Teeming up with her new friend Luc, all she needs is a tiny glass slipper, one huge foot and enough time to reach the shoe. Sounds like a piece of cake right? Well fairytales are never that easy!
Positives: witty characters, funny plot twists and fairytale logic
For lover of: Amy Alward's The Potion Diaries, Lewis Carroll's Alice In Wonderland
I found this story very engaging and easy to read, I read it across 2 days and was actually a bit sad when it ended. The narrative was very fast paced and clever. It featured every essential fairytale element: star crossed lovers, kingdoms at war, bandits and near misses. I particularly enjoyed the fairytale logic, switching from plot twist to plot twist at a ridiculous rate! It was great!
The characters are well developed and full, there was definitely no rushing in writing them. There were no insignificant or filler roles, giving the story much more depth. I loved Laure's sassiness in contrast to Luc's open heart and generosity. This book was lighthearted and funny, making it the perfect spring read!
I would recommend this book to any fairytale lover or YA fantasy fan! It publishes on April 3rd so check it out! Let me know in the comments below if you have any retelling recommendations :-)